NASSERPURIA MEMON JAMAAT – CANADA

26 Independence Drive, Scarborough, ON M1K 3R8
Phone: 416 828 9574
www.nmjcanada.com
Eid-ul-Adha get-together dinner programme
(Report by: Qasim Abbas, Toronto, Canada)
Nasserpuria Memon Jamaat, Canada organized an Eid-ul-Adha get-together dinner programme on Saturday November 19, 2011 at Pleasantview Community Centre, Toronto. A large number of community members with family attended this programme, showing community spirit, brotherhood and unity of Nasserpuria Memons on foreign soil.

To start the programme, Gen. Secretary Mr. Nadeem Salyani welcomed all the guests, wished them Eid Mubarak and then invited youngster Mohammad Moledina Varvani for recitation of
Holy Qur'an. Youngster Mohammad Moledina Varvani recited Surah Al Lahab.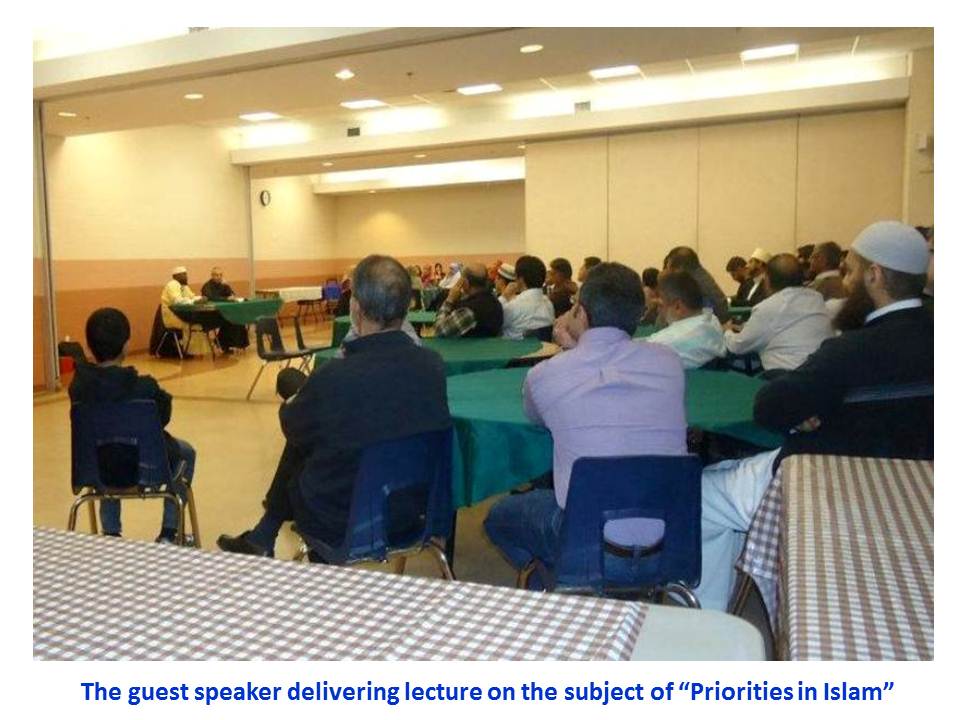 After recitation of Holy Qur'an, it was time for Salaat-ul-Eisha. So the Gen. Secretary Mr. Nadeem Salyani announced that Salaat-ul-Eisha will be performed Ba-Jamaat in the hall. The
arrangement of Salaat was made in the Hall. Azaan was called by Gen. Secretary Mr. Nadeem Salyani and Salaat was led by Treasurer Mr. Sabir Yakub. The Eisha Salaat was performed in time as per Qur'anic order: "Surely prayers are enjoined on believers at stated times" (4:103).
After Salaat, Gen. Secretary Mr. Nadeem Salyani invited from youngsters sisters Khadija Kasmani and Mahdiyya Kasmani as Masters of Ceremony to conduct the programme. To
begin the programme, they announced for religious lecture and invited guest religious scholar Brother Adam Esse. Treasurer Mr. Sabir Yakub introduced the distinguished scholar, as Board Member of the Councils of Imams of Canada and other organizations and Lecturer at Islamic Propagation Centre and other places. Topic of tonight's lecture was "Priorities in Islam". The distinguished scholar delivered the lecture in light of Holy Qur'an and Authentic Hadees. After the lecture, there was questions and answers session. At the end, the Treasurer Mr. Sabir Yakub and Masters of Ceremony thanked the distinguished scholar.
Now it was dinner time. As per Jamaat's tradition, Treasures Mr. Sabir Yakub invited an elder senior member Brother Shafi Yakub to recite Bismillah Al Rahmaan Al Raheem in order to start the dinner by community members. After his recitation, the dinner was started and it was enjoyed by the members.
After the dinner, the Masters of Ceremony announced that now it is great time for entertainment for children by a clown. The clown had arrived and all children sat down on the carpet before the clown and he started his performance. The clown performed various tricks with balls and rings and showed some of the tricks to children as well. Then he showed his performance on one wheeler i.e. cycle with one wheel. He also blew up balloons and made various items from these and presented to the children. The children enjoyed the performance of clown with joy. Elders equally enjoyed the show.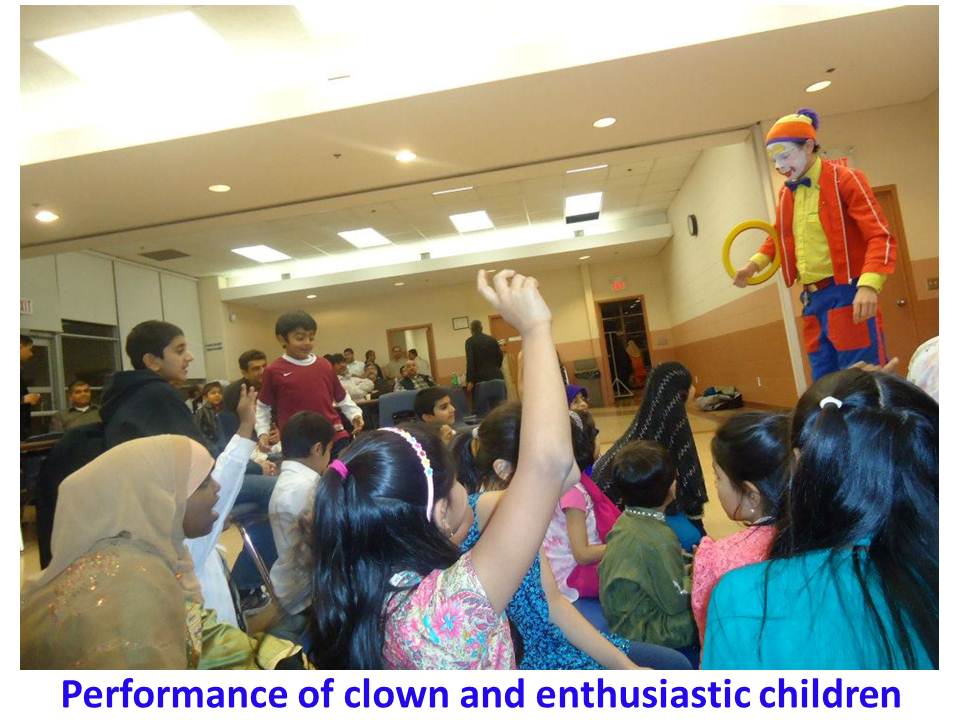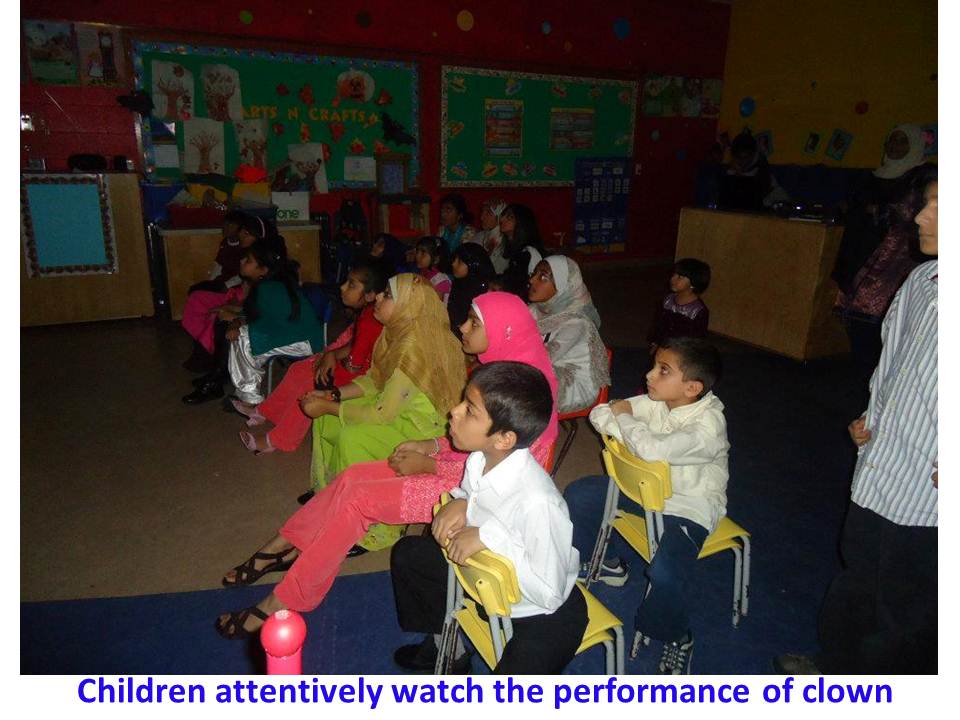 After this, Masters of Ceremony gave details of Sports Committee's programme for upcoming period. Then Gen. Secretary Mr. Nadeem Salyani invited a guest Mr. Qasim Abbas and introduced him as Memon writer and community social worker. Mr. Qasim Abbas came on the stage and thanked the Jamaat for inviting him at the Eid Dinner programme. Then he presented to the President and the Gen. Secretary with 10 copies of World Memon Organization's official monthly publication "Memon Alam", which were received from World Memon Organization Pakistan Chapter. He gave rich tribute to Jamaat for maintaining unity and brotherhood among community members and also retaining Memon values, identity, culture and heritage on foreign soil through their periodical get-togethers, their publications "Memon Diaspora" (200 pages book in English published by Jamaat in year 2004) and publications "An Najm" in English, which Jamaat publishes every two years.
Now it was time for launching Jamaat's 5th edition of publication An Najm, 84 pages magazine containing useful articles and other matters, all contributed by Jamaat's youngsters and elders. Earlier "An Najm" was published in years 2002, 2004, 2006 and 2008. This was 5th edition published in year 2011. The Editor-in-Chief of "An Najm" Mrs. Mariam Salyani and President's wife Mrs. Nasreen Varvani launched the 5th edition of "An Najm" by presenting first copy to Jamaat's elder Mrs. Sakinabai Yakub. After that, the copies of "An Najm" were distributed to all Jamaat's members present in the event.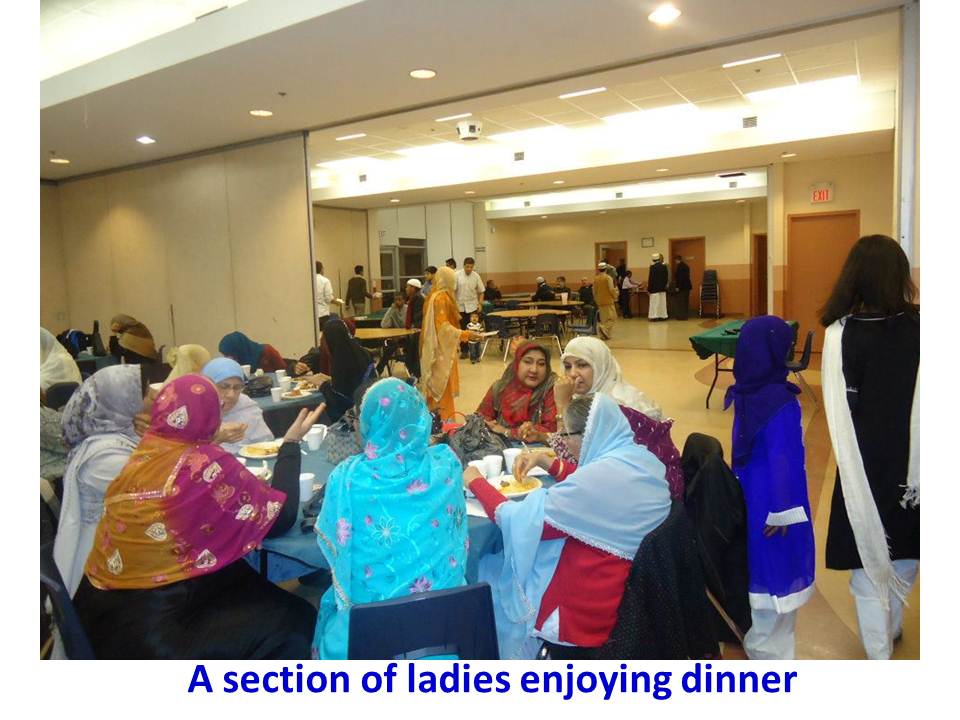 Now President Mr. Moledina Varvani came on the stage. He conveyed Eid Mubarak to everyone and thanked them for participating in tonight's event to show unity and brotherhood among Jamaat members. He presented a gift on behalf of Jamaat to distinguished scholar Brother Adam Esse. He welcomed a community member guest from Mombasa, Kenya Dr. Ahmed Sokwala, who is doing his fellowship in Nephrology at University of Toronto. The President thanked and lauded the efforts of all who have been part of Jamaat's publication An Najm 5th edition, which is a marvellous achievement from Jamaat members.
The President also thanked community member Brother Saleh Parpia for contributing towards Higher Education Scholarship, which was awarded to a youngster Mr. Junaid Warwani for his Educational and Extra Curricular achievements. He finally thanked all the volunteers, who have given their time in organizing tonight's event. To wind up the function, he invited distinguished scholar Brother Adam Esse to make Duaa after which this wonderful programme came to an end.
Moledina Varvani, President
Nadeem Salyani, Gen. Secretary
<![if !supportLineBreakNewLine]>
<![endif]>